"In a world of magic and mystery, the perfumers imagination brings sensory illusions to life. Real or imagined, fragrance is bottled dreams" on the wall at Sephora Sensorium.

Scent is our most primitive sense. As such, it is the most emotional, and generates the most hardwired reaction to any experience. It is our first experience of the world, why we are attracted to certain people, and defines interaction in a way we can rarely wordify.

Located in the most trendy area of NYC, the Sephora Sensorium cannot be missed, as it explores this phenomena in a way not seen before.

As you enter the scent bar at the end of the exhibit, you can sniff and record your impression. We recommend that you do not read the words that describe the scent before you record your reaction, as that will influence you. Also, take a perspective going into the process as it makes it even more interesting. In our experience, we found the scents mostly did not fit the words.

Notice the similar, and dissimilar reactions, and the strength of them. Certain scents can send people fleeing, bring them in, make them curious, or create a completely wrong impression, or generate such a strong emotion that rational thought is impossible.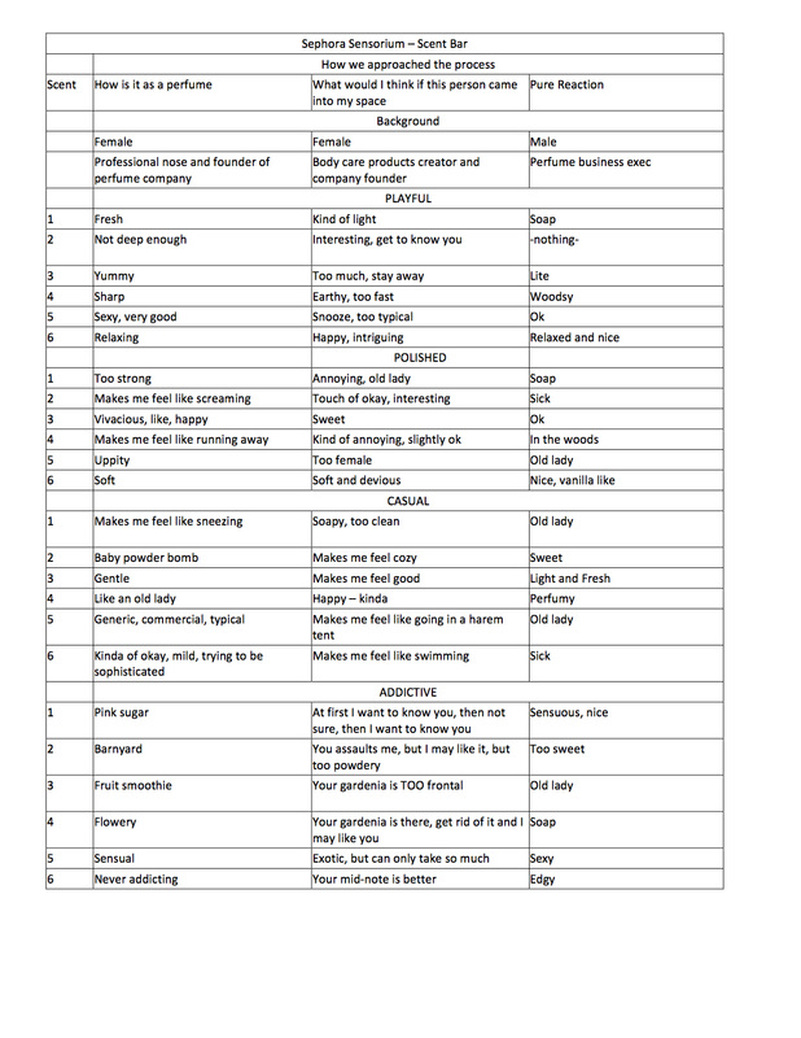 * a note on the "old lady" description. This is a typical reaction for many people, but is nothing against older women - It really comes from most people having experienced a woman wearing a too liberally sprayed, more old-fashioned type scent (which older women would more likely wear, when she is "dressed up" so she appears very "ladylike"), that is rancid. Perfume can degrade over time, especially alcohol based ones; often people "save" perfume for special occasions, which means it sits for far too long. In addition, extremes of temperature and light can also cause a fragrance to go rancid. Moral of the story, if you buy perfume, use it.